Christian Calendars Scripture Images
One new beautiful scripture image that you can share with everyone in any room each month.
Share Your Faith Products has introduced the 2019/20 wall calendar that shares a different scripture each month with images that will have everyone talking when they see it. The Word of God is a great reminder of how He has designed us and wants us to live so that we bring honor and glory to Him.
When You order your new calendar we will create it starting with the next month from your order month so that you get the full year value from it!
Give your home, church, or office a bright new look with eye-catching Calendar of Christian scripture images. This comprehensive collection of Biblical references in Calendar format contains backgrounds of nature along with other thought-provoking settings that blend with the scripture for many aspects of life.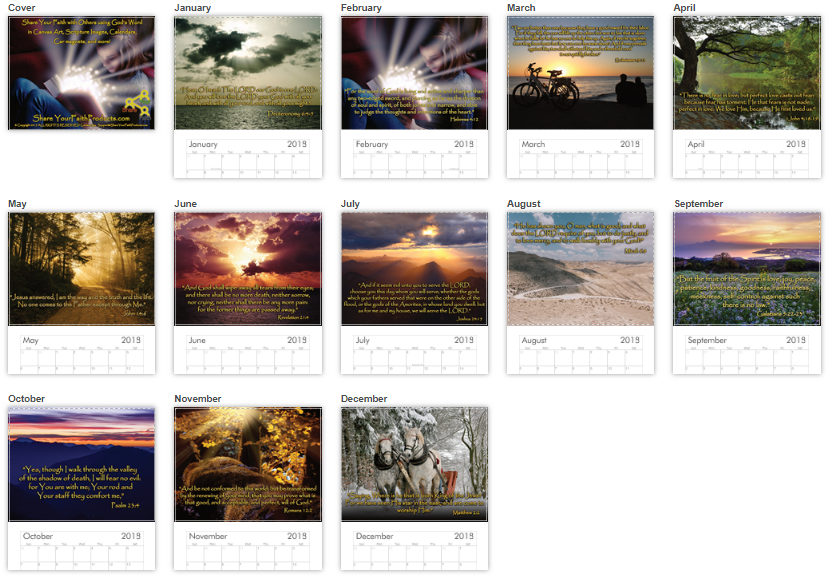 Enjoy them yourself and share them with others as gifts to be remembered all year long!
Add color and life to your church offices, classrooms, coffee areas, conference room, for a display of a scripture image calendar.
Scripture blended with beautiful eye-catching backgrounds create a one of a kind calendar for your home office or anywhere that you want others to know the truths from the Bible.
A Christian Calendar that is designed for anyone to display, from homeowners, businesses, churches and Christian counselors to remind ourselves and others of God's love and provision.
If your desire is to enhance any environment towards your Christian faith then look no further than using a Scripture Images Wall Calendar!
Scripture Images Calendar displayed in your home or office will help define the importance of your Christian faith, and allow you to share that faith with newcomers, visitors, family, and friends.
Heartwarming, true, and inspiring Christian themed Calendars makes for a great gift to other believers as well, either as a house warming gift, for Easter, Christmas, baptism, or for any gift-giving occasion.